bio
The 2001 Syracuse University graduate (School of Information Studies) is also the owner of Wisdom Digital Media, an award-winning leading design company for entertainment and technology web sites. In his previous life, he held an executive position for the world's leading publisher of technology magazines, web sites and conferences and, as a result, was named among the "Top thirty magazine industry executives under the age of 30" by FOLIO Magazine.
Robert Diamond founded BroadwayWorld.com in 2003, which has now become the largest theatre web site in the world. He served as the site's Editor-in-Chief until early 2022, covering Broadway and beyond, with specific local coverage for 100 cities in the United States, 45+ countries worldwide and 10 other related areas of entertainment - including dance, opera, concerts, comedy, films, television and more. In 2014, the site was awarded an Award for Excellence in Theatre Arts Education by the prestigious Theatre Museum.
Diamond got his start in the entertainment field, accidentally, when he created the 'official web site' (while in college) for Michael Crawford, the popular actor and original Tony and Olivier Award-winning star of THE PHANTOM OF THE OPERA. (He still blames Crawford - and credits him - for anything that goes particularly right or wrong during an average day.)
As a respected member of the Broadway and theatre community, Diamond also served as Lead Producer for a series of sold-out shows using the BroadwayWorld 'brand' for a set of 'Standing Ovations' concerts, which also branched out into titles that included Holiday Shows and even more specific concerts like 'From Stage to Screen and Back Again' in tandem with publishers and movie studios. All proceeds were in turn donated to Broadway Cares / Equity Fights AIDS, the industry's leader in aid for performers in need.
Robert splits his time between Manhattan and Lake Tamarack in Stockholm, NJ with his wife, two dogs and new baby (Leia Francesca Diamond - born May 2020!), growing the business and getting little sleep. In addition, you can usually find him in a theatre many nights a week. Robert's writing has been featured on the site in 'The Broadway Pulse' and Industry Insight sections on BroadwayWorld and he also wrote weekly about theatre for the USA Network's Character Approved blog.
In late 2012, Wisdom Digital Media announced the official spinoff and launch of new entertainment web sites including BWWTVWorld.com, BWWBooksWorld.com, BWWMusicWorld.com, BWWDanceWorld.com, BWWClassicalWorld.com and BWWOperaWorld.com. The site's expansion was featured in a Crain's New York Business profile as well. Since then, Diamond has been featured as an industry expert by numerous outlets.
In December of 2014, Diamond was one of 5 Syracuse University Alumni, all having achieved success in the world of start-ups, business growth and venture capital, participating on a panel addressing young alumni who are currently pursuing their dreams of running their own business and experiencing the day to day challenges of a startup. It is part of the university's new Student Accelerator Program, for which Rob was recommended by Syracuse University's i-School.
To celebrate the site's 10th birthday, BroadwayWorld.com returned to the concert stage, with a series of benefit concerts featuring Broadway's brightest stars. The site continued its growth and leading technology support adding exclusive features, an industry-first Apple TV app, Roku App, new iPhone, Android and iPad Apps, Apple Watch and Safari alerts, a slew of original video content, international expansion & more.
In 2020, the site unveiled a major redesign, and launched numerous new businesses including the Theatre Shop, Online Education, BroadwayWorld Research, Industry Pro and more. During the Broadway shutdown, the site continues to light a path with several new features including Next on Stage, Living Room Concerts, broadcasting Stars in the House, Live with Richard Ridge, brainteasers & more reaching record site traffic, supporting charities and spotlighting artists and organizations.
Diamond also spearheaded the launch of the platform's newest feature - Stage Mag. The first mobile-first, digital only show program service. Since launching, hundreds of theaters around the world have enjoyed the convenience of creating modern, fully interactive show programs for all types of productions- from streaming to in-person.
In May of 2023, the site celebrated its 20th Anniversary with a massive redesign and a star-studded celebration at Sony Hall, benefitting our longtime friends and collaborators at Broadway Cares/Equity Fights AIDS - hosted by Chita Rivera and Richard Ridge and featuring performances by Tony, Emmy and Grammy winning stars of stage and screen. At the event, New York City's Mayor, Eric Adams officially proclaimed May 21, 2023 as BroadwayWorld Day.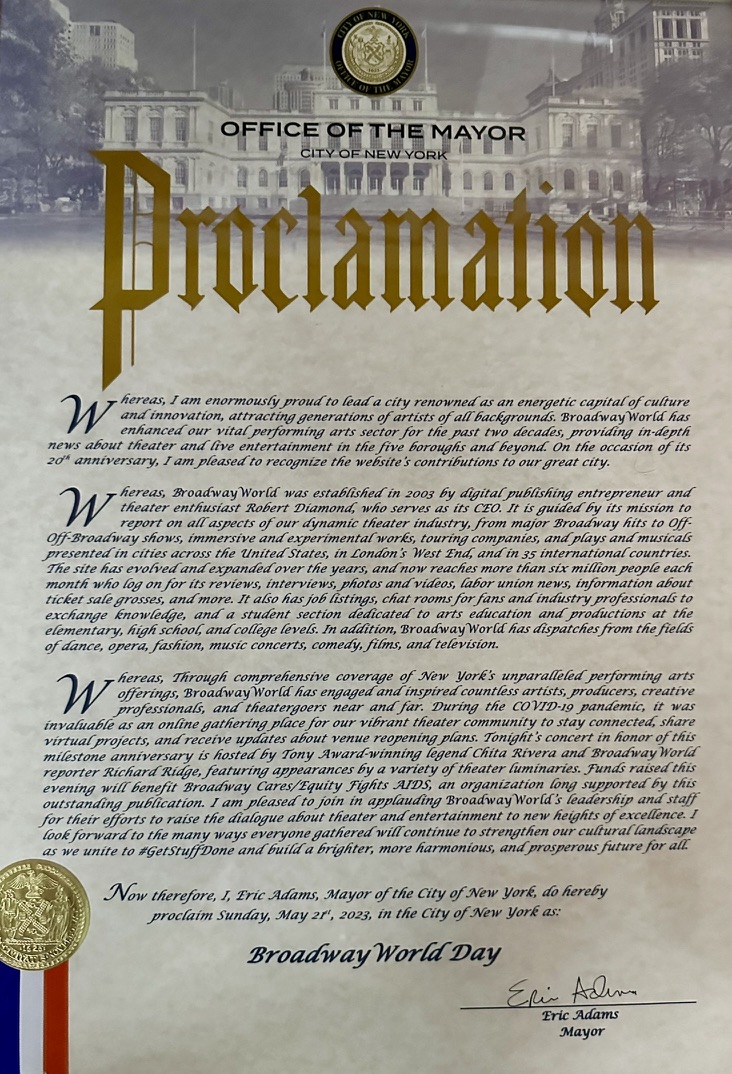 contact